Gateway to Women's Health
February 27th - March 13th, 2018
A brand new health and wellness initiative offered by Gateway's Women's Ministry. This FREE 6-week fitness class is all about whole-body wellness: mind, body, and spirit.
It's the beginning of a brand spanking new year, which means it's New Years Resolution time! What better time to set our minds on establishing a healthier lifestyle! As women, we all want to have more energy to be better equipped to take care of our daily responsibilities and our families whom we love so much, and it all starts by just making up our minds that this is going to be the year. 
Our minds are powerful, ladies, so if you've made up your mind that 2018 is going to be the year you are going to finally transition to a healthier lifestyle, we would love to partner with you in that transition to a healthier you!
Once we make up our minds to live a healthier lifestyle, the next step is to put our plan into action. This means that it's time to engage our bodies, by fueling them with good food and putting them into motion to strengthen our muscles and burn off years of unhealthy living. Our certified fitness instructor, will show you how to exercise without the need for an expensive gym membership and equipment. No matter your fitness levels, there will be something for you. Plus our professional chef will share food samples and recipes to teach you how to prepare nutritionally sound meals and snacks for your family on a budget.
FREE CHILDCARE!
We are partnering with Gateway Kids ministry to provide childcare during the class. Your children will have a blast with games, stories, and crafts. Plus, they'll be fueling their bodies with samples of these healthy snacks while you're working out! We'll even give YOU the recipes for the snacks at the end of each class.
We understand how hectic life is for women, so it is our goal help the women in the community take time to better care for themselves so that they are even better equipped to care for their families. A big part of caring for ourselves as women is to find that inner peace that will quiet our spirits and slow us down so that we can be fully present in each and every moment of our lives. Children, spouses, work, household management, social media and finances can keep us tied up in knots. It is our sincere hope that for 2 hours each week you will be able to spend some uninterrupted time, without any distractions, to take care of yourself and bond with other women.
Financial Peace University
February 28th - April 18th, 2018
$50
What if you knew where all of your money was going each month? What if you were debt-free, investing and making wise spending decisions? With Financial Peace University, you CAN take control of your money and start planning for your future. We'll meet on Wednesday evenings from 6-8 at HeBrews Coffee Shop located at 1984 Rosemark Road, Suite A. Only one registration per household is required. The $50 fee covers all class materials and a lifetime membership to on-line resources.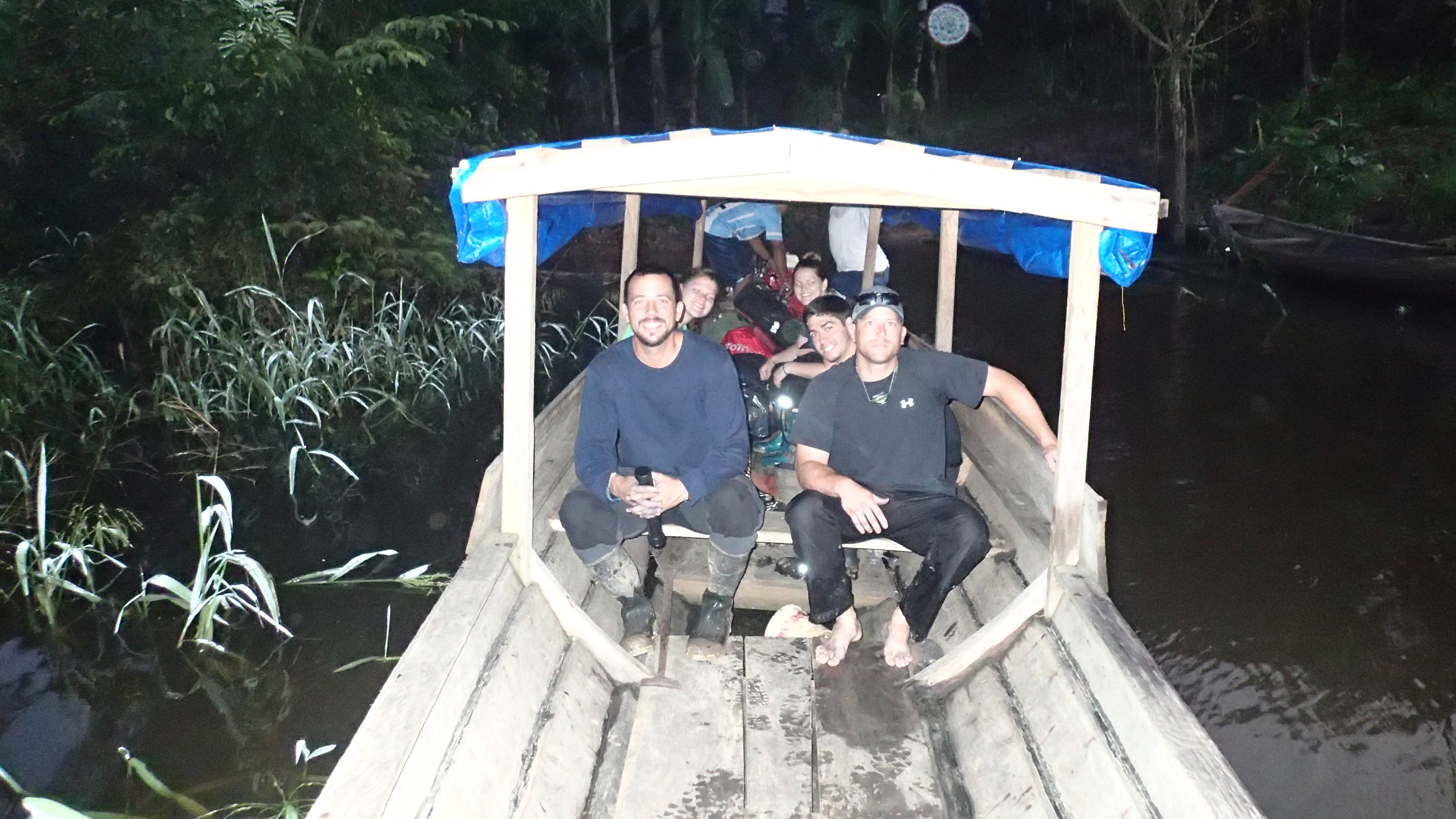 Father/Son Colombia Mission Trip (Cost 1,200)
March 7th - March 14th, 2018
$1,200
This Mission Trip is categorized at a Level 5 which is our high level of difficulty for both the physical demands as well as safety. This trip will consist of taking the gospel in story form to the Ticuna and Cocama people of Colombia along the Amazon. We will travel by boat once arriving in Colombia and sleep in hammocks while in the village. The cost of this trip includes travel, food, and lodging.
Items need for trip: Lightweight long sleeved shirts and pants(More shirts and underwear than pants) Swimsuit Hammock with straps Earplugs or headphones to listen to at night (It's noisy) A pair of water shoes/flip flops Hiking boots or rubber boots Any possible medicine you might need Spray your clothes with Sawyer Bug Repellent before leaving the US Bring bug repellent with deet with you too.
To exchange money, bring crisp brand new small bills (highest is 20) with you and we will exchange them in Bogota or Leticia. Do not bend or crease the bills in any way. You may also simply withdraw money from ATM in Leticia. However, you must notify your bank first that you will be out of country so they won't lock your card for potential fraud.
For any additional questions, please email them to me at jeff@gatewaytipton.com.
Celebrate Recovery Step Study
March 11th - August 19th, 2018
$20
Working on our hurts (family issues, past hurt, trauma), our habits (food issues, alcohol, smoking, or any bad habit), and hang ups (anxiety, depression, people pleasing, etc) is hard. Celebrate Recovery at Gateway is welcoming anyone interested in beginning a step study. These steps will give you the tools you need to live the victorious life God wants for each of His children. This is open to everyone, not just those who attend Celebrate Recovery. Confidentiality, anonymity, and a wiling heart are the only prerequisites.
This group will meet on Sundays from 4-6pm beginning March 11 at The Munford Campus.
Ecuador Youth Trip (Cost 1,500)
March 23rd, 2018
$1,500
This trip is designed to mobilize our youth to be on mission starting now. Konnor Kessler will be leading this trip to Ahuano, Ecuador to partner with the Tennant Family. This trip is categorized at a Level 3 out of 5 for difficulty due to international travel, cultural challenges, language barrier, and it's isolated location.
Montrose, Colorado (Cost 1,000)
May 21st - May 28th, 2018
$1,000
Church 180 is really taking off but still in need of strategic partnerships to further the outreach effort and continue effective growth. We will do whatever is needed but typically consists of door to door flyers, block party, etc... This trip is categorized as a level 1 out of 5 for difficulty due to ease of travel and lack of language and cultural barriers.
Appalachian Outreach
June 3rd - June 9th, 2018
$300
Appalachian Outreach is an opportunity to be the hands and feet of Jesus to those struggling within our own state of Tennessee. This trip measures in at a level 1 out of 5 for difficulty because it is a relatively short trip, nice accommodations, no language or cultural barrier, and it is all done in English. Opportunities within this trip range from construction, to hair salon, to kids clubs, to food pantry, and much more.
KIDS CAMP
June 7th - June 11th, 2018
$50 - $125
We're more excited than ever for Kids Camp! There's a new venue for 2018 - THE GROVE (formerly Camp Cordova). Our theme, created just for Gateway Kids Camp 2018, is based on Colossians 3:3. Kids will learn what it means to have their whole lives "Hidden in Christ." Gateway Kids Ministry leaders are committed to bringing a great camp experience to your kids this summer.
Camp is June 7 - 11.
Grades 2-5 will stay overnight. Grades K-1 will attend the 9am-4pm on June 7 and 8.
Cost for grades 2-5 is $200. This includes camper's lodging, food, t-shirt, crafts, and games. Cost for K-1 is $50 and includes all the camp activities, lunch, crafts, and a t-shirt.
HURRY! There is limited space. Pay your $50 deposit to secure your child(ren)'s spot at Gateway Kids Camp 2018.
Student Camp
June 11th - June 15th, 2018
$0 - $275
Every summer families look forward to Summer Camp . It's a time when life-long memories are made. Students love the FUN. Parents, you'll love that it's a way for your teens to learn a little independence as they have an encounter with God.
Camp can be a significant time in their spiritual life. At some point, your kids will choose to whether or not to make your faith their own. We can't make that choice for them, but we can give them opportunities along the way. Gateway's summer camps are the perfect chance for your teens to step into their own relationship with God. For a few days they are unplugged and get some undistracted time with God. When you sign them up for camp, you're really making an investment in their spiritual development.
Payments $100 due by March 1st to reserve spot $100 due April 15th $75 due May 20th
Madrid Spain (Cost 2,500)
June 23rd, 2018
$2,500
This will serve as a vision trip as we seek a partnership with the Shirey family serving in Madrid. We will be assisting them with a sports camp involving both basketball and soccer. This is a level 4 out of 5 for security due to international travel, language and cultural barrier, as well as security while traveling abroad.
Portland, Oregon
September 26th - October 3rd, 2018
$1,500
Please prayerfully consider partnering with us as we minister with our Sent Out ones, Ryan and Clarissa Sidhom in the Portland, Oregon/Vancouver, Washington area as they plant River City Church. This trip is classified at a level 2. The reason for this is due to the drastic cultural differences and the needs fo us to be sensitive to those differences.